Patricia James Eberlein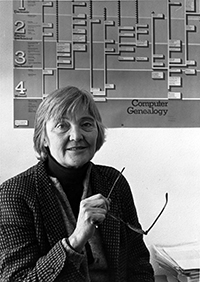 Death:
1998
The first woman to chair the Department of Computer Science.
A mathematician by training, Patricia Eberlein was one of the original members of the Department of Computer Science and the department's only female professor when it was formed in 1967.
Later she became the first woman to chair the Department of Computer Science, serving as acting chair from 1971 to 1972 and chair from 1981 to 1984. While she was chair, Eberlein significantly increased the amount of sophisticated computer equipment and raised the department's stature nationally. In 1974 she was promoted to full Professor.
Eberlein's research interest was numerical analysis, numerically linear algebra, and combinational algorithms.
Before coming to UB, Eberlein was a mathematician at the Institute for Advanced Study at Princeton University where she worked on the "Electronic Computer Project" that led to the development of the very first computer in 1952. She also worked at the Rochester Institute of Technology (RIT) where she was the associate director of its computing center.
In 1984, Eberlein received a National Science Foundation Visiting Professorship for Women Award. During her visiting professorship, Eberlein worked at Cornell on the project: "Norm-reducing Methods for Algebraic Eigenproblems for Parallel and Micro Computation." And, in 1988, she was a visiting senior scientist at the Argonne National Laboratory. She was one of the original members of the Gatlinburg group.
A real Renaissance woman, in her younger years Eberlein had a brief career as a fashion model in New York City and she worked on a ranch in South Dakota. During World War II she had a job flying new planes from manufacturing plants to United States military bases.
She was very active in her academic fields and spoke often about the need to attract more women to the fields of computer science and mathematics. She was involved in the American Mathematical Society, the Association for Computing Machinery, the American Association for the Advancement of Science, and the Association of Women in Mathematics.
The department of Computer Science and Engineering has named the "Patricia James Eberlein Graduate Lab" in her honor.
Affiliation(s):
Computer Science and Engineering
Record Group(s):
18
---
Biographical File Contains: