Charles D. Abbott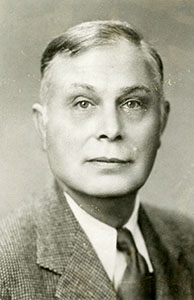 Born:
1900
Death:
1961
Charles D. Abbott was born in Milford, Delaware in 1900. He graduated from Haverford College in 1922 and received the degree of Bachelor of Letters from New College, Oxford in 1927. That same year, he joined the faculty of UB's English Department. In 1929, he accepted a post at the University of Colorado, Boulder.
Courted by Thomas B. Lockwood and Chancellor Samuel P. Capen, and lured by the promise of a new library and the added prospect of building a college library book collection, Abbott returned to the UB English Department in 1931 and in 1934 took charge of the library.
A lover of books and devotee of British poetry, Abbott founded the Poetry Project in 1937, which matured into the University Libraries' Poetry Collection. Abbott intended it to be a first edition collection of Anglophone poetry by twentieth century poets. He also initiated a twentieth century manuscript collection in the Poetry Collection. The first of its type, it became a prototype for university manuscript collections across the country. To cite a few, Abbott was responsible for acquiring the manuscripts of William Carlos Williams, Dylan Thomas, Wyndham Lewis, Robert Graves and James Joyce. In 1939, Abbott hired poet Mary Barnard to be the first curator of the Poetry Collection.
Tireless, distinguished and dedicated to poetry, books and libraries, Charles Abbott was always the mentor. He gladly interacted with students and faculty, and welcomed guests to his library and to the Poetry Collection. He is remembered for his timely adage "There is no end to what remains to do."
In 1977, the Lockwood Memorial Library name and much of its collection was transferred to the North Campus. The building was appropriately renamed Charles D. Abbott Library.
The papers of Charles D. Abbott are available in the University Archives.
Affiliation(s):
Libraries, English
Record Group(s):
13, 16
---
Biographical File Contains: