Rotary Field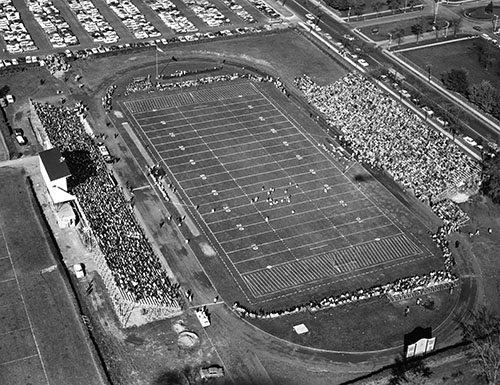 ---
Location:
South
---
Historical Note:
From the early 1920s through 1984, Rotary Field was the home of the UB Bulls football team. Since then, the field has been used for intramural and recreational sports.
---
Namesake:
Rotary Field is named after the Rotary Club of Buffalo in honor of their fund raising efforts during UB's 1920 endowment campaign.
---
History/Chronology:
1920 -- (November 26) The UB Council's Committee on General Administration approves funding for "fitting the University for athletic purposes" including erecting a fence and bleachers, and rolling the ground for an athletic field.
1922 -- (October 28) UB dedicates Rotary Field with the raising of an American flag presented by the Rotary Club of Buffalo. In the football game following the ceremony, UB lost to Clarkson Institute of Technology 18-0. The dedication of Rotary Field was part of a weekend-long celebration that included the inauguration of Chancellor Samuel P. Capen and the dedication of Foster Hall.
1957 -- Additional seating is constructed bringing Rotary Field's capacity to 10,000. A new two-story press box and permanent concession stands at each end of the field are also constructed.
1984 -- (October 20) The last UB Bulls football game is played on Rotary Field. UB beat Brockport 44-15
1986 -- (September) The stands on the west side of Rotary Field are torn down. According to Harbans Grover of UB Architectural Services, the stands on the eastern side of the field are still safe for public use.