Ridge Lea Campus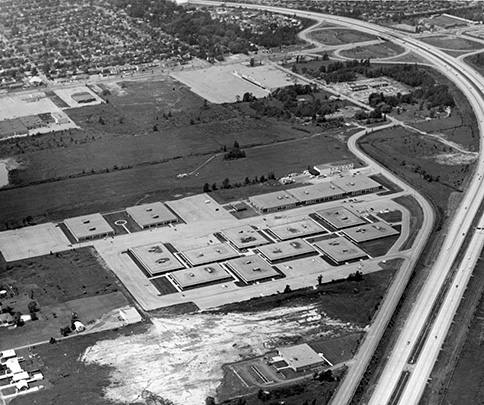 ---
Current Name:
Ridge Lea Campus
Former Name:
Interim Campus
Location:
Off Campus, Lost Buildings
---
Historical Note:
On May 17, 1966, the University at Buffalo signed the lease for a parcel of land on Ridge Lea Road in the Town of Amherst to be used as an interim campus. Since merging with the State University of New York in 1962, the University at Buffalo experienced an increase in students, faculty and staff, and quickly outgrew available space on what is now the South Campus. The purpose of what became known as the Ridge Lea Campus was to help alleviate this space shortage until buildings were constructed at the nearby North Campus.
When the Ridge Lea Campus opened in September of 1967, it consisted of ten buildings housing the departments of Computer Science, Theoretical Biology, Mathematics, Philosophy, Statistics, Anthropology, Art, Political Science, Biophysics, Medical Technology and the Computing Center. There was also a library and a food service facility to service these departments. The campus would later be expanded to thirteen buildings.
Though blessed with plentiful parking, the faculty, staff and students occupying the Ridge Lea Campus often felt isolated from the rest of the university. Some faculty believed this isolation was a benefit to their research but others feared that it led to a decline in enrollment in their departments. The sense of isolation was only increased in the mid-1970s when UB began downsizing its presence at Ridge Lea. Soon after departments began relocating to the North Campus, UB closed the Ridge Lea Campus recreational facilities, relocated the library to the South Campus and moved food services from its own building to the Department of Geology's mailroom.
Though facing pressure from state government to vacate the campus as early as 1977, multiple delays in construction meant UB was still leasing eight buildings on the Ridge Lea Campus in March of 1984. UB would not completely vacate the interim campus until the early-1990s when the Department of Geology moved to the North Campus.
It is through the Department of Geology that the Ridge Lea name lives on at UB. Since 1983, the department has held an annual barbecue on Grounhog Day. As part of the festivities, the department's stuffed woodchuck, Ridge Lea Larry, makes a prediction on the arrival of spring.
---
Original Architect:
William H. Pleva
Original Contractors:
Hannon Construction Company
Construction Cost:
$4.5 Million
Original Size:
375,000 square feet