Pharmacy Building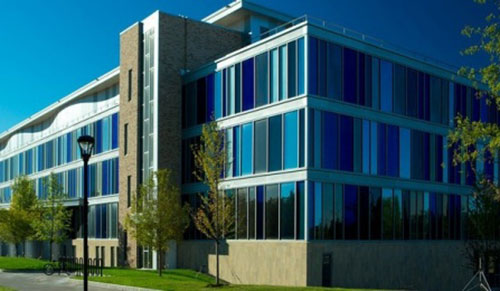 ---
Current Name:
Pharmacy Building
Former Name:
Edward Goodrich Acheson Hall of Chemistry (1959-2008)
Former Name:
John N. Kapoor Hall (2008-2019)
Location:
South
---
Historical Note:
The Pharmacy Building originally housed the Chemistry Department as well as a number of lecture halls until 1994 when the Chemistry Department moved to the Natural Sciences Complex on the North Campus. The building remained empty until Spring 2007 when renovations were approved to turn the 160,000 square foot building into a state-of-the-art new home for the School of Pharmacy and Pharmaceutical Sciences.
In 2008, Acheson Hall was renamed Kapoor Hall after noted Pharmacy alumnus, John N. Kapoor. The Acheson name now will be used to identify the Edward Goodrich Acheson Lecture Hall in the Natural Sciences Complex. Facilities in the Pharmacy Building include associated research and teaching laboratories, vivarium, classrooms, a working hospital pharmacy, pharmacological care clinic, and office spaces.
---
Namesake:
John N. Kapoor (School of Pharmacy and Pharmaceutical Science, Ph.D.) is founder, chairman, and CEO of E.J. Financial Enterprises. Inc., a company with investments in over two dozen companies, ranging from AIDS and cancer research to gene-sequencing. In 2000, Kapoor donated the largest gift in school history to strengthen research in the pharmaceutical sciences. "John Kapoor is a brilliant entrepreneur and visionary leader," said former UB President, William Griener at the time of Kapoor's gift. "Boldness, creativity and innovation have characterized his leadership… [and] he is a wonderful role model for today's UB students."
Edward Goodrich Acheson (1856-1931), an inventor/industrialist, worked for Thomas Edison from 1880 to 1886. He developed silicon carbide and founded the Carborundum Corporation. The Acheson family and the Cardorundum Charitable Foundation contributed $250,000 toward the construction of Acheson Hall
Inside the Pharmacy Building, the George Barclay Bassett Auditorium, was dedicated in 1959 in honor of the man who devised a simple and practical way to make water meters and founded the Buffalo Meter Company. At the dedication, Bassett's inventive genius and high standards in business ethics and employee relations were praised.
---
History/Chronology:
1957 -- (November) Construction of Acheson Hall was started
1958 -- Groundbreaking ceremony
1958 -- (July) Phase I of construction was completed
1958 -- (November 10) Cornerstone ceremony
1959 -- (September 12) Dedication
1962 -- An extension was begun
1963 -- (November 2) Dedication of the Acheson Hall extension
1994 -- the Department of Chemistry moves to the North campus leaving Acheson Hall vacant
2007 -- (Spring) renovations are announced
2008 -- Acheson Hall is renamed John Kapoor Hall after one of the School of Pharmacy's most prominent alumni.
2012 -- Renovations completed
2019 -- Renamed Pharmacy Building
---
Original Architect:
Duane Lyman & Associates, Buffalo, New York
Original Contractors:
BAW Construction Co., Inc.
Construction Cost:
$1,935,000 for Phase I; nearly $1.6 million for Phase II
Original Size:
83,356 sq. ft. (64,436 sq. ft. added in 1963)
---
Renovation Architect:
S/L/A/M Collaborative
Renovation Cost:
$55,000,000
Renovation Size:
Building renovated to 163,821 sq. ft.